03/06/2018
March 2018 News Flash: What's happening in your profession?
March 2018 News Flash
2018 Annual Business Meeting notice
Nominating Committee report and 2018-2019 slate of OCRA Officers and Directors
2018 Annual Conference hotel room block and preregistration deadlines
Transcription survey
OCRA submits comments to the U.S. Department of Labor on proposed regulatory action
Cincinnati *Free* Intro to Machine Shorthand Program begins March 22nd
NCRA Board of Directors meeting and Legislative Boot Camp
---
---
The 2018 Annual Business Meeting of the Ohio Court Reporters Association will take place on Saturday, April 14, 2018, from 11:45 a.m. until 1:30 p.m. in Dublin IV, V, and VI at the Marriott Columbus Northwest, Dublin, Ohio. All OCRA members are encouraged to attend the Annual Business Meeting, which will take place during the Saturday Luncheon of the 2018 Annual Conference (preregistration for lunch is required).
Click here for the full Annual Business Meeting notice and slate of 2018-2019 Officers and Directors
---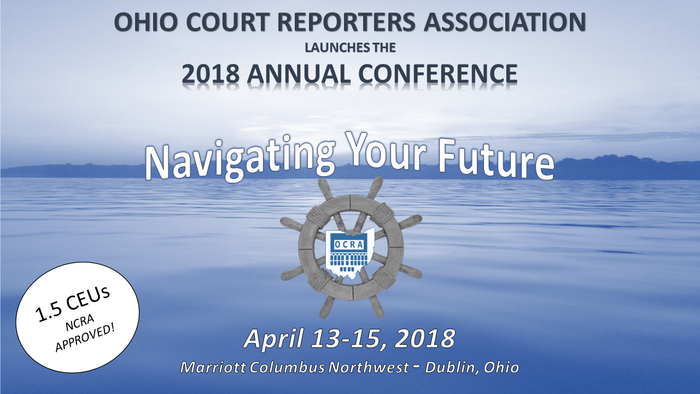 The 2018 OCRA Annual Conference has been set for the weekend of April 13-15, 2018, and all activities will take place at:
Marriott Columbus Northwest
5605 Blazer Parkway
Dublin
Click here to reserve your room instantly using the OCRA reservation link to secure your low rate of $129 per night! The OCRA room block is open through March 15, 2018, or until sold out.
Preregistration for the conference remains open through April 6th. Register today and be one step closer to earning your 1.5 CEUs!
---
Invitation to participate in transcription research
Chad Iwertz, a PhD student at Ohio State University, is researching the writing habits and practices of speech-to-text and CART providers. He has been studying transcription methods for six years, and for his dissertation work at OSU has been primarily working with the Association of Transcribers and Speech-to-Text Providers to better understand the methodological practices of different forms of transcription.
Chad realizes that his research significantly underrepresents verbatim forms of transcription and he has reached out to the experts - OCRA's reporters and captioners - to ask for your participation in his research study.
Click here for additional information and to complete the transcription survey
---
OCRA submits comments to U.S. Department of Labor
On January 4th, 2018, the U.S. Department of Labor released a highly anticipated proposed rule that would significantly alter the way that association health plans (AHPs) are regulated. This proposed rule is intended and expected to deliver benefits primarily to the employees of small businesses and their families, as well as the small businesses themselves. This proposed rule would encourage the establishment and growth of AHPs and could allow associations, such as OCRA, to become a conduit to more affordable health care options for our independent contractors and small business owner members.
Click here to view OCRA's submission to the Department of Labor
Click here for the background and summary on the proposed regulatory action
---
Through NCRA's Discover Steno initiative, the OCRA Cardinal Foundation will offer the Intro to Machine Shorthand in the Cincinnati area beginning on March 22nd. The program offers the perfect opportunity for potential students to learn the alphabet in steno, write on a real machine, and decide if pursuing an education in court reporting or captioning is the right choice.
Click here for more information and to help spread the word about this upcoming opportunity
---
Ohio represented at upcoming NCRA meetings and activities
OCRA President Douglas Bettis, President-Elect Terri Sims, and Vice President Kelly Linkowski will attend NCRA's 2018 Legislative Boot Camp March 11-13, 2018. Training through NCRA's Legislative Boot Camp will provide Ohio's leaders the hands-on opportunity to learn the skills necessary to best advocate for court reporting and captioning on Capitol Hill in Washington, D.C., and on Capitol Square in Columbus, Ohio.
In addition to participation at Boot Camp, Ohio representatives will be attending the NCRA Board of Directors meeting scheduled for Friday, March 9, and will also be meeting with NCRA CEO and Executive Director Marcia Ferranto on Sunday, March 11. On February 9, 2018, OCRA President Douglas Bettis sent a letter to Ms. Ferranto and the NCRA Board of Directors requesting an in-person meeting to address several concerns raised by the OCRA Board of Directors.
Click here to view OCRA's letter to NCRA
---
---
---