Complete Story

08/08/2016
Ohio represented in Chicago at NCRA's Annual Convention & Expo
Sue Terry, Springfield, Ohio, elected as NCRA 2016-2017 Vice President
---
Congratulations, Sue Terry, NCRA's New Vice President
On Thursday, August 4th, Sue Terry, Springfield, Ohio, was elected to serve as the 2016-2017 Vice President.
Sue A. Terry, RPR, CRR, is a Fellow of the Academy of Professional Reporters. She has been a court reporter since 1975, reporting arbitrations, proceedings, conventions, administrative hearings, public utility hearings, large environmental cases, patent cases, tobacco cases, and other cases with highly technical or medical testimony.
Sue is a past president of OCRA and the StenoCAT Users Group and received both groups' Distinguished Service Award. She served on advisory committees for Gigatron Software Corporation, LiveNote (Thompson West Corp.), and Clark State Community College of Court Reporting. As a trainer, Terry helped many reporters transition to realtime reporting by improving their translation rates and mastering their CAT software. She taught at the Stenotype Institute.
She led seminars for OCRA, NCRA, the StenoCAT Users Group, and many state court reporting associations. In addition, Sue has spoken before the Ohio State Bar Association, the Connecticut State Bar Association, and the American Trial Lawyers Association. She has also served as a faculty member of the Ohio Judicial College for the Ohio Supreme Court.
Congratulations, Sue!
---
Ohio Group Photo - August 6, 2016
A familiar sight at every NCRA Annual Convention & Expo is the Ohio contingent gathering for a yearly group photo. The tradition continued in 2016! Thank you to all who were available for this year's group photo. What a great looking group!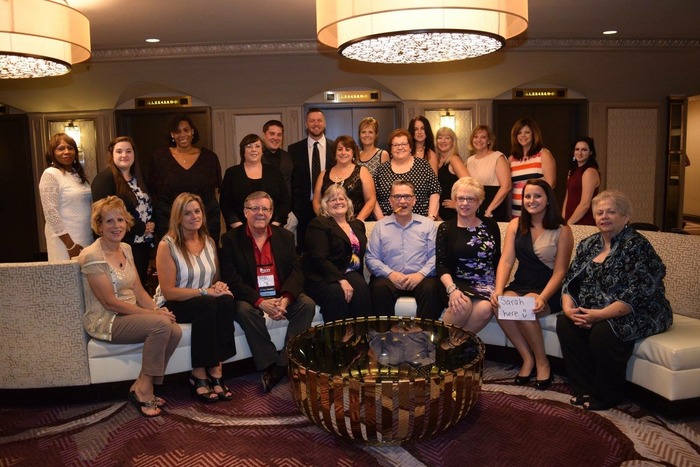 ---
NCRA Realtime Contest - OCRA Members Showcase their Skills
Congratulations to all Ohio reporters who participated in NCRA's Speed and Realtime Contests in Chicago, including our very own Eileen Beltz who dedicated many, many hours dictating and grading the contest papers.
We are so proud of our OCRA members who qualified in the 2016 National Court Reporters Association Realtime Contest!
LITERARY

| | | | |
| --- | --- | --- | --- |
| PLACE | | ERRORS | PERCENTAGE |
| 4 | Donna Karoscik, RDR, CRR, CRC, Pickerington | 8 | 99.200% |
| 14 | Kelly Linkowski, RPR, CRR, CRC, CPE, Rittman | 31 | 96.900% |
| 19 | Lance Boardman, RDR, CRR, Mount Vernon | 37 | 96.300% |
TESTIMONY (Q&A)

| | | | |
| --- | --- | --- | --- |
| PLACE | | ERRORS | PERCENTAGE |
| 7 | Donna Karoscik, RDR, CRR, CRC, Pickerington | 18 | 98.400% |
| 8 | Lance Boardman, RDR, CRR, Mount Vernon | 21 | 98.133% |
OVERALL COMBINED SCORES

| | | | |
| --- | --- | --- | --- |
| PLACE | | ERRORS | PERCENTAGE |
| 5 | Donna Karoscik, RDR, CRR, CRC, Pickerington | 26 | 98.800% |
| 13 | Lance Boardman, RDR, CRR, Mount Vernon | 58 | 97.217% |