Complete Story

06/30/2017
Opportunities to "Discover Court Reporting and Captioning" are plenty in Ohio
YOU can help secure your future today!
---

Would you like to learn more about the career of court reporting, speak with court reporters and learn how to type your name with those stenotype machines (a machine that writes shorthand and is different than a standard computer keyboard) they use?
High-tech, in-demand careers
Great earning potential
Preserve the record of high-profile cases
Learn how to caption on any smart device
Flexible environment: work at home or travel
Join us for a free interactive event to learn more about careers in court reporting.
When: Wednesday, July 12, 2017, from 9:00 am to 12:00 pm
Where: Clark State Community College, Brinkman Educational Center, 100 South Limestone Street, Springfield, Ohio.
For Anyone: 8th Graders on up (including adults considering another career); parents are more than welcome to attend with their student.
Limited Number of Participants: 20 (Due to the equipment and personalized nature of this event, attendance is limited.)
Please register now to reserve your spot before we close registration.
**This is not an OCRA event
---
OCRA Cardinal Foundation offering A to Z Intro to Machine Shorthand
FREE 8-week introductory program to begin in August in the Canton area
Through NCRA's Discover Steno initiative, the OCRA Cardinal Foundation will offer the A to Z Intro to Machine Shorthand later this summer in the Canton area. The A to Z program offers the perfect opportunity for potential students to learn the alphabet in steno, write on a real machine, and decide if pursuing an education in court reporting or captioning is the right choice.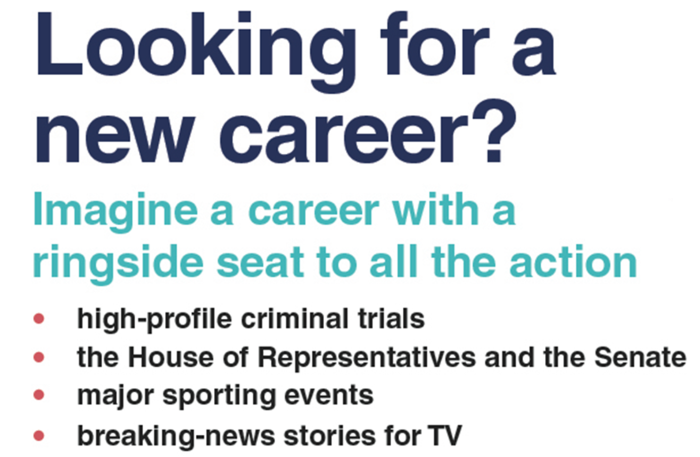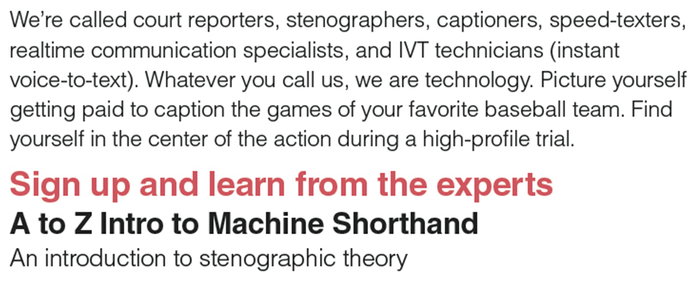 Are you a working reporter, captioner and/or instructor? We need you!
Do you know of someone who may be interested in this free introductory program? Spread the news about this opportunity!
Click here for the shareable flyer
The A to Z Intro to Machine Shorthand is a program being offered through the OCRA Cardinal Foundation and is being presented entirely by volunteers from within our profession. And we need your help!
Do you have an older steno machine in the closet collecting dust? What about ink cartridges, pads of unused paper, paper trays, etc., that you'd be willing to part with?
Sponsorships and donations are always accepted and appreciated to help support OCRA's programs and initiatives. Used steno machine donations and/or loans, as well as donations of machine accessories (ribbons, ink, paper, paper trays, etc.), are appreciated and arrangements will be made for delivery/pickup. Please click here to provide your information or email/call OCRA at (614) 300-0906/info@ocraonline.com.
---