Complete Story

02/08/2020
Governor DeWine recognizes Ohio 2020 Court Reporting and Captioning Week
President Kelly Linkowski encourages all Ohio reporters and captioners to share the excitement
---
Ohio Court Reporting and Captioning Week
February 8-15, 2020
In conjunction with NCRA's eighth annual National Court Reporting and Captioning week, Ohio Governor Mike DeWine and Lieutenant Governor Jon Husted have recognized and declared Ohio Court Reporting and Captioning Week February 8-15, 2020. Your OCRA is proud to have achieved this declaration for our profession here in Ohio!
The official Proclamation was presented by Governor DeWine's Central Ohio Regional Liaison, Kathleen Young-Riley, to OCRA President Kelly Linkowski and OCRA members on Saturday, February 8, during the District C CEU event held at Motts Military Museum in Groveport.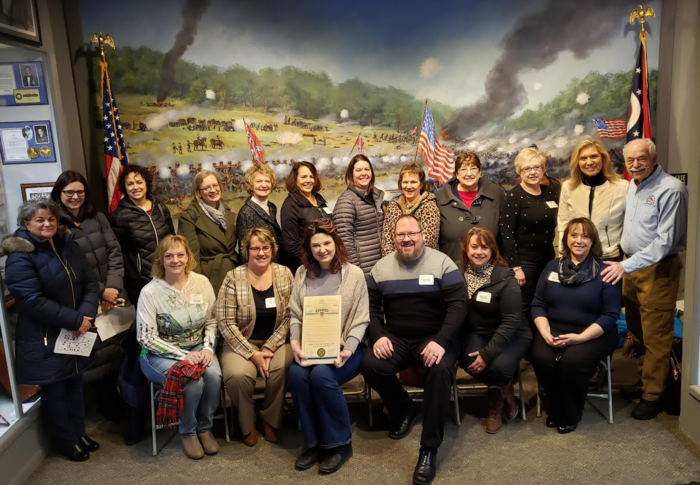 OCRA President Kelly Linkowski is encouraging all court reporters, captioners, videographers, students, and industry colleagues to share the excitement of Ohio's 2020 Court Reporting and Captioning Week. Please click here to view the Press Release shared with many news outlets.
FOR IMMEDIATE RELEASE
Governor DeWine Proclaims February 8-15, 2020 as
Ohio Court Reporting and Captioning Week
Stenographic court reporters and captioners to raise public awareness of their important roles
COLUMBUS, Ohio, Feb. 8, 2020 - Pursuant to a Proclamation signed by Ohio Governor Mike DeWine, the Governor and Lieutenant Governor have designated February 8-15, 2020 as Ohio Court Reporting and Captioning Week. Governor DeWine recognizes that for centuries, individuals have needed the spoken word translated into text to record history. The Proclamation also recognizes that court reporters have played a permanent and invaluable role within our judicial system across the country.
Since the advent of the shorthand machine, the scribes that previously transcribed historical events are now known as stenographers or court reporters. Among other important roles, these professionals are present in Congress, preserving the proceedings as a part of our country's history. Court reporters and captioners are responsible for the live closed captioning seen on television, at sporting events, and other community and educational settings, bringing information to millions of deaf and hard-of-hearing Americans every day.
Stenographic court reporters and captioners have embraced technology and provide the fastest, most accurate way to preserve the record of any proceeding. Their equipment is state-of-the art and provides instantaneous transcription of the spoken word which can be accessed in real-time.
During Court Reporting and Captioning Week, Ohio stenographers will celebrate by raising public awareness about the importance of their various roles. Court reporters and captioners will share information about this exciting and viable career that does not require a four-year college degree yet offers a good salary, flexible schedule, and interesting and diverse job assignments.
"Court reporters in Ohio have helped preserve our state's history for centuries. Our technological advances in the field have opened up career options to include captioning for millions of Americans, providing them with equal access to news and information, entertainment, sporting events, and educational opportunities. We are excited about the vitality of our profession and the opportunities that lie ahead for stenographic court reporters and captioners. We would encourage anyone looking for an exciting career with a great deal of flexibility and opportunities to consider becoming a court reporter or captioner," said Kelly Linkowski, RPR, CRR, CRC, CPE, a captioner from Rittman, Ohio, and President of the Ohio Court Reporters Association.
Whether they are called the scribes of yesterday or the court reporters and captioners of today, the individuals who preserve our nation's history are truly the guardians of the record.
For more information about court reporting or captioning in Ohio, you can visit www.ocraonline.com.
________________________
About OCRA
The Ohio Court Reporters Association is dedicated to providing leadership and direction for the court reporting profession – past, present, and future - by offering educational opportunities and promoting technological advancements, quality services, high ethical standards, and fellowship. Since 1920, OCRA has provided a variety of services and benefits that enhance growth, development, and professional expertise among its membership.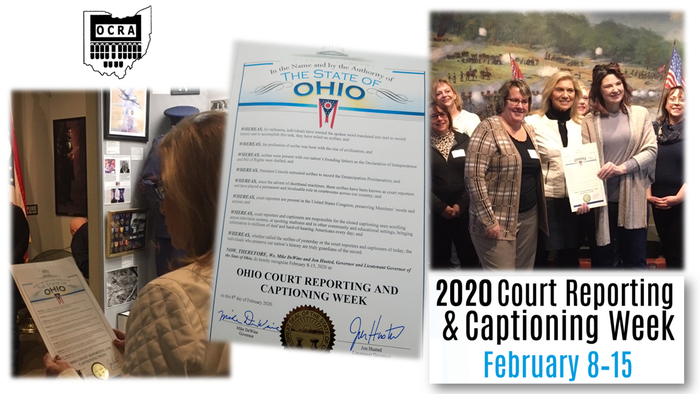 For more information on raising awareness, including press release templates, logos, et cetera, please visit: www.ncra.org and www.discoversteno.org. Be sure to let OCRA know of any events you plan or recognition you receive in your local area so we can share the great news with your fellow Ohioans.