Complete Story

03/11/2021
The Buckeye Record - Winter-Spring 2021 Edition
The latest issue of the The Buckeye Record is now available!
The Buckeye Record Winter-Spring 2021 edition is now available _________________________
This issue of The Buckeye Record contains 30 pages full of information you do not want to miss, including:
OCRA's President's Message
101 Years In the Making
NCRA Strong Committee Going Strong
2021 Annual Conference Schedule of Events
Trial Lessons in the COVID Environment
Resiliency and Working in a Pandemic
Employment Opportunities
and on and on!
The Buckeye Record is generally only made available to members of the Ohio Court Reporters Association as a benefit of membership. If you are not a member, please JOIN TODAY! Updates, networking, opportunities, and more - all available with your OCRA membership! For a limited time, the Winter-Spring 2021 edition of The Buckeye Record is available without logging in. Nonmembers: Make sure to take advantage of this opportunity to see what your OCRA is doing for all of Ohio's reporters and captioners.
Do you have suggestions and/or contributions for future issues of The Buckeye Record? Let OCRA know!
---
---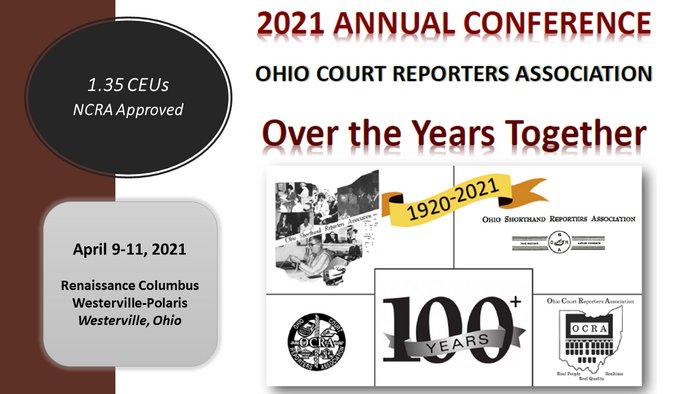 ---